by Alexander van Dam and rick de Visser, a result of the Master module "Sense your heart".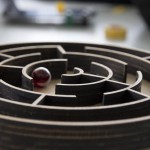 In this report we discuss our process of creating an application for a PPG heart sensor. The PPG heart sensor is based on an arduino board and self build as part of the module. From here one we did a short design iteration of two days in which we created a game as the application, made two working prototypes with a second arduino, tested them in game play and made some small adjustments to improve the game.
A. VAN DAM, and R. DE VISSER,
Sense your Heart
, M12 Report, Department of Industrial Design, Eindhoven University of Technology, 2013.
FULLTEXT:
PDF