B2 project by Joost Buining and Yinying Miao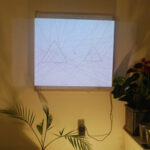 Work-related stress may result in under-performance and absenteeism of office workers. Employees often struggle to pause their work and reflect on their own stress level, resulting in a gap between one's perceived and one's actual level of stress. Therefore, there is a need to raise the awareness of office workers about their own stress levels.
To reach this goal, Stressvas is introduced. It is an office interactive installation using motors and projections to represent heart rate variability data, collected by sensors embedded in office chairs. It aims to stimulate a healthier working attitude through a collective visualization of employees' stress levels. The approaches used are data-enabled design as well as the personal informatics model. By anonymously displaying the differences among colleagues in a team, employees can reflect on their own mental health from a more objective perspective. Therefore, triggering behavior change for a healthier and better workspace.
J. Buining, and Y. Miao,
Less Collective Stress, Better Workspace
, B2 Project Report, Department of Industrial Design, Eindhoven University of Technology, Eindhoven, 2021. FULLTEXT:
PDF