Best Poster award of Auto UI 15' for Chao Wang (DI)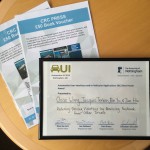 After presentation and voting by conventioneers, Chao Wang, PhD Candidate in the DI group, just got the Best Poster award of AutomotiveUI 15', which is the premier forum for UI research in the automotive domain.
C. Wang, J. Terken, B. Yu, and J. Hu, "Reducing driving violations by receiving feedback from other drivers," in Adjunct Proceedings of the 7th International Conference on Automotive User Interfaces and Interactive Vehicular Applications, Nottingham, United Kingdom, 2015, pp. 62-67.
FULLTEXT:
PDF
REFERENCE:
BibTeX
EndNote
DOI:
10.1145/2809730.2809736