Original article from OpenLight.nl, by Rombout Frieling, creative director OPENLIGHT and project initiator, Light Through Culture.
LIGHT THROUGH CULTURE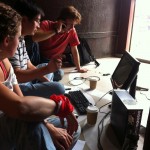 During the past two weeks, 14 young designers from the Netherlands and China worked together intensively in a masterclass led by the OPENLIGHT creative light laboratory.
For two days, the team lived with Beijing's cleaners, bus drivers, parents and school kids.
They turned their insights from Beijing Culture into three lighting concepts, which we show here in three cylinders. The purpose is a dialogue about how smart lighting can contribute to a healthy city.
The presented installations are realised by technologies such as intelligent systems and LEDs, which reveal new design opportunities.
At OPENLIGHT, the creative lab of the Intelligent Lighting Institute (ILI, Eindhoven, the Netherlands), we explore for instance how light can help us focus, reflect, regulate our biorhythms, improve safety or escape from hectic everyday life.
OPENLIGHT initiated 'Light through Culture' to respond to cultural challenges in various cities, such as here in Beijing with Tsinghua University. We present the results for you in three cylinders:
Continue reading OpenLight Presents "Light Through Culture" in Beijing