[FBP project by Linde van Beers]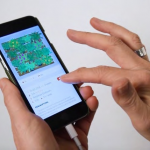 Community Makers is a platform that has as a goal to grow, strengthen and connect communities of people who are actively improving their environments. They can use the app to start projects and find collaborators, both in their own social media network and in their physical neighbourhood. The app helps manage the project with a shared task list and asks project members to take pictures throughout the process regularly. From these pictures, it creates a time-lapse video of the project being built up from the ground. Providing a nice memento that can also be shared to inspire others. This video is an important feature as it both helps strengthen intrinsic motivators such as pride and sense of accomplishment and contributes towards getting even more people enthusiastic about improving their neighbourhoods.
L. van Beers,
Community Makers
, FBP Report, Department of Industrial Design, Eindhoven University of Technology, Eindhoven, 2018.
FULLTEXT:
PDF