M22 Graduation Project by Fan Chen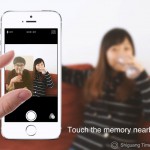 This project explores some related work about utilizing recorded data to reflect past experiences and maintain relationships. The first iteration was carried out in the university and a growing collective memories album service named Shiguang Time Machine was developed. With the input of client, Mobile Taobao, a second iteration was carried out focusing on the photo merging. Shiguang Time Machine is a mobile social application that brings past memories to present and merges photos together based on the location. The service aims at (1)making recorded data easily accessed in the right situation and (2)bringing touched moments and joy to the user. Finally, after the evaluation of the project, further development directions were discussed.
F. Chen,
Shiguang Time Machine
, M22 Report, Department of Industrial Design, Eindhoven University of Technology, 2014.
FULLTEXT:
PDF