The new game designed by Serge Offermans featured in Cursor. The game is the result of his final master project "Blurring the boundaries". In his final report (PDF, 2M),
"Digital virtual worlds are important to the people living in them. They allow people to use other means to exploit their capabilities. Who they are, what they can do and what they experience in these worlds however, is hardly ever valuable outside the virtual. This project aimed to create an integration of the qualities of the virtual and the physical world, and in doing so allow benefit from one world in the other.
The result is a virtual world, designed specifically with integration of the worlds in mind. It literally draws the virtual world into the physical by bounding it to our physical reality and effectively placing virtual, invisible characters and objects in our physical world.
Interaction with the world is made possible by a device that channels audio from one world to the other and allows you to 'feel' and manipulate the world through movement and touch.
The specific world that has been worked out is designed for the use by children and their parents who can now benefit from the dynamic-ness of the virtual world without the closed medium of the PC.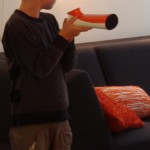 Children and parents can now together experience the virtual world and spend time together while they are engaged in activities that also benefit the childs educational development. Because the world can only be perceived through touch and audio, the world stimulates the child's imagination."