Final Bachelor Project by Ruben Hekkens. Report: [PDF, 4M]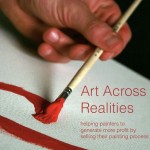 Professional traditional painters find it very hard to generate a proper living from their painting activities. Some do a job on the side. The web offers new opportunities for generating exposure and income, for instance via Youtube or a personal website. However, it is hard for painters to exploit these possibilities, as they have few finances and insufficient IT-knowledge to do so. In this project, I explore a new product service-system for painters, which helps them generate extra money while still keeping interaction with the user very simple.
R. Hekkens,
Art across Realities: helping painters to generate more profit by selling their painting process
, Final Bachelor Project Report, Department of Industrial Design, Eindhoven University of Technology, 2009.
FULLTEXT:
PDF