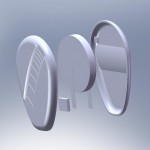 A nice project done by MieKe Kleppe. "The goal of my IBP is to design a system or device that will help expats to feel more at home abroad. I used literature, interviews, surveys and a context mapping session to find out that the real problem is that they feel far away from the people that really know them. After some more research and idea generation I refined my direction in designing a system or device that will motivate friends of the expat to share their daily life with the expat with use of text messages. So I chose to design something for the friends, not the expats themselves. The biggest challenge for this project was to make sending the messages as little effort for the friend as possible, but still keep it interesting for the expat.
The result of my project is a pendant that can be hung on the phone of the friend. With a simple sliding movement a message is send to his expat friend. Context awareness phones are used to determine what the friend is doing and which message should be send."
Download the report [PDF, 800K] for details.